ARPEPE, Rosso di Valtellina | Chiavennasca (Nebbiolo) | 2016 | Italy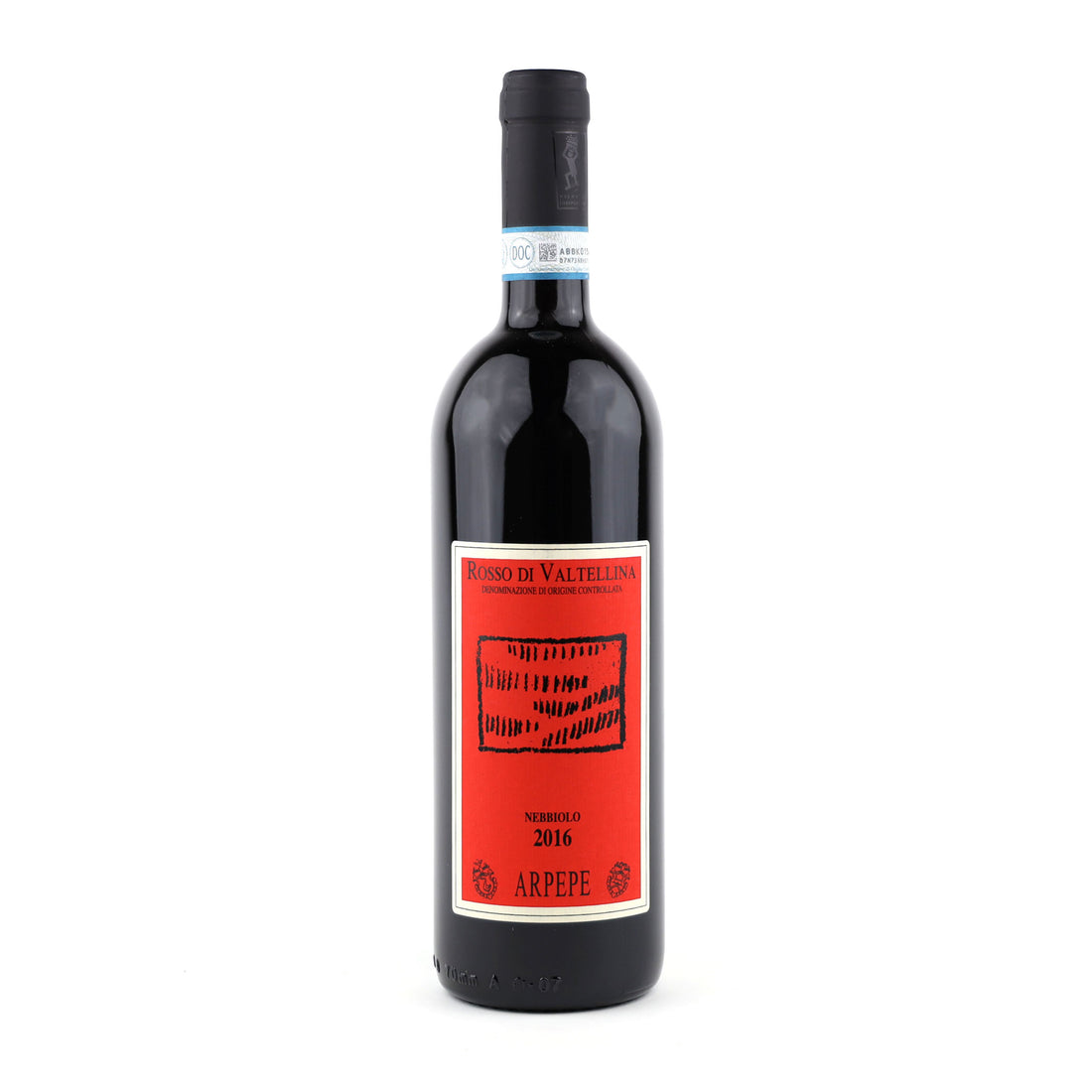 ARPEPE, Rosso di Valtellina | Chiavennasca (Nebbiolo) | 2016 | Italy
Nebbiolo from 50-100 year-old vines from the
 lower slopes of Sassella and Grumello vineyards. 110-day maceration on the skins.
Green Packaging: Nomacorc Select Green (100% recyclable closure made from renewable, plant-based polymers)
Flavor: Fresh and fruit-driven. Cherry, leather, rose hips, white pepper.
Wine Type: Red wine
Grape: 100% Chiavennasca (Nebbiolo)
ABV%: 12.5
Region: Italy
Vineyard Subregion: Rosso di Valtellina DOC, Lombardia
Farming: Sustainable
Yeast: Native
Producer: ARPEPE
Winemaker: The Pelizzatti Perego family
"We are a family of winegrowers and, for over 150 years, we have been passionately devoted to the cultivation of Nebbiolo. This is a rare grape variety that, over the centuries, has adapted to the Valtellina, a land like no other, where everything is still done by hand. For 5 generations we have always waited for "the time it takes" "the right waiting time" and it is this that sets the pace of our work. Time and humility are what make our wine the purest, sincerest expression of this land and of the people who cultivate it with such dedication. This was the lesson we were taught by our father Arturo, without letting ourselves be influenced by passing fashions and conventional tastes.

We are convinced that the outstanding qualities of Nebbiolo from the Alps means it is more than worthy of its place of honour on the international market of fine wines. Without this worldwide acknowledgement, this age-old activity would simply not be economically sustainable for it rejects any idea of modern mass-production.

The traditional Valtellina method adopted by the Pelizzatti Perego family has been written down in the company books since 1860, just prior to the Unification of Italy. It is with these hand-written books that Mamma Giovanna taught Emanuele, Isabella and Guido. Arturo set the example of the tenacity needed to face the challenges that a vintner is faced with in the Valtellina and, as fate would have it, just when 2004 came to an end, the fifth generation of the family took over at the helm of ARPEPE."
Drink thoughtfully. Drink with a conscience. Drink with impact.
You can feel good when you enjoy your wine, knowing it is made by people who give a damn about the bigger picture.
#alaesquina #wineforacause #sustainablewine