Schplink! | Grüner Veltliner 3L Box | 2021 | Austria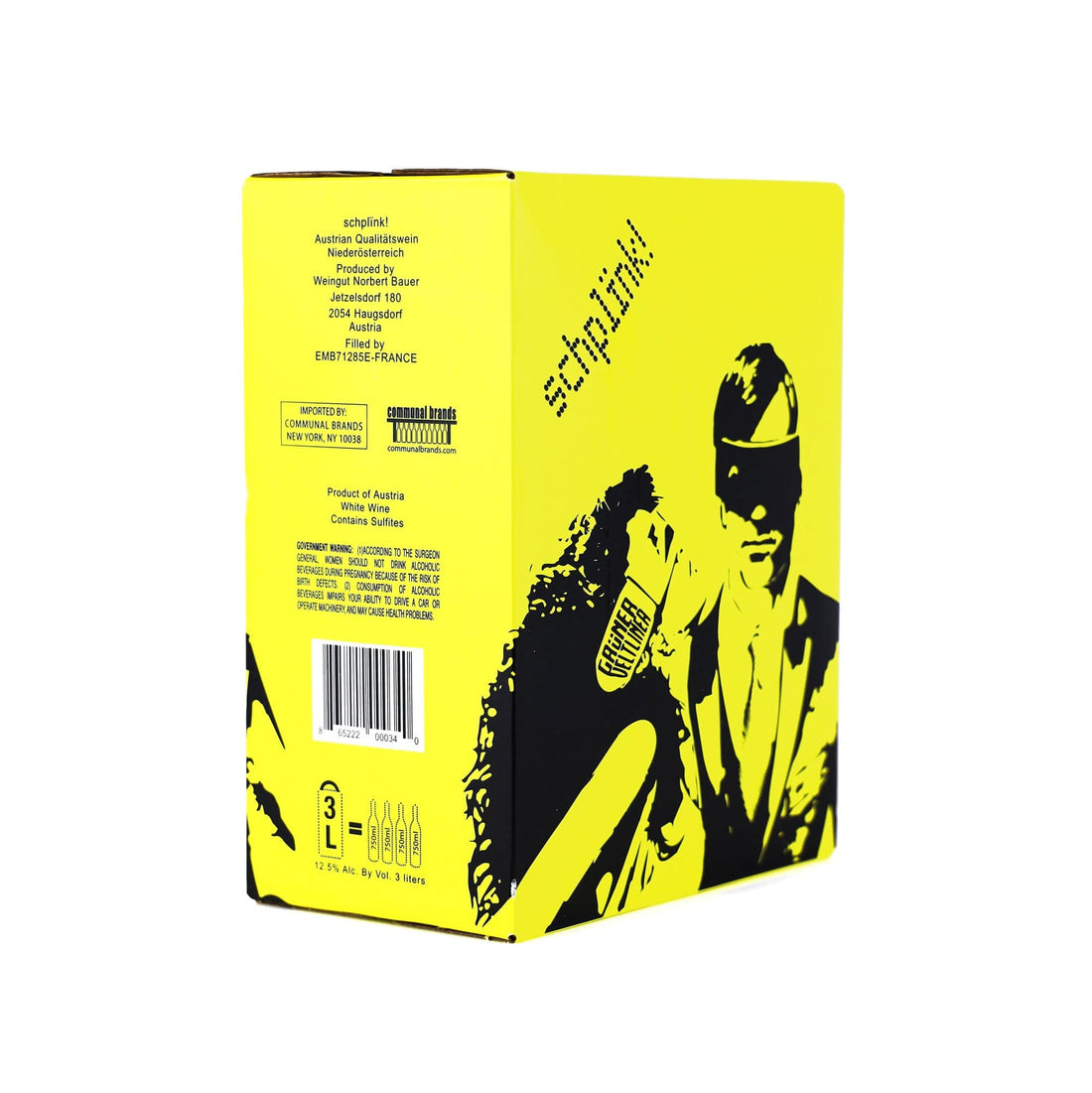 Schplink! | Grüner Veltliner 3L Box | 2021 | Austria
Organic practices in the vineyards. De-stemmed. Gently pressed and allowed to macerate for 12 hours to increase aromatics. The spontaneous fermentation lasted 22 days at a cool temperature in stainless steel tank. It remained on the fine lees until 12 hours before filling to keep the wine as young and fresh as possible. Lightly fined and filtered.
Green Packaging: ⭐️🥇 3L box wine!
Flavor: Mineral-driven with crisp green apple with herbaceous notes. A savory white.
Wine Type: Low-intervention, Sustainable AF
Grape: Grüner Veltliner
ABV%: 12.5
Region: Austria
Vineyard Subregion: Niederösterreich, Weinviertel
Farming: Practicing sustainable
Yeast: Native
Producer: Weingut Norbert Bauer
Winemaker: Norbert Bauer
Weingut Norbert Bauer consists of 90 hectares of sustainably farmed vineyards in the picturesque Pulkautual area of the Weinvertel, near the river Pulkau, very close to the Czech border.

Their motto is "Tradition in progress—we are where the wine grows."

The winery has existed since 1721 and is currently owned by Norbert & Gisela Bauer. They are the 11th generation of the Bauer family to operate it, and the lineage continues with their five children. Nature remains one of the most important foundations of the family winery. They recently obtained an Austrian certification for sustainability that mandates organic practices in the vineyard and sustainable practices for the entire business, including CO2 emissions for the winery.

It is a respect for nature every step in the production process. The old wine cellar on the property is still used, and the knowledge of their ancestors is kept alive like a treasure.

The design is inspired by the '80s, an era where Apple computers were the boxes everyone was talking about and Kraftwerk's Computer Love album debuted.
Drink thoughtfully. Drink with a conscience. Drink with impact.
You can feel good when you enjoy your wine, knowing it is made by people who give a damn about the bigger picture.
#alaesquina #wineforacause #sustainablewine